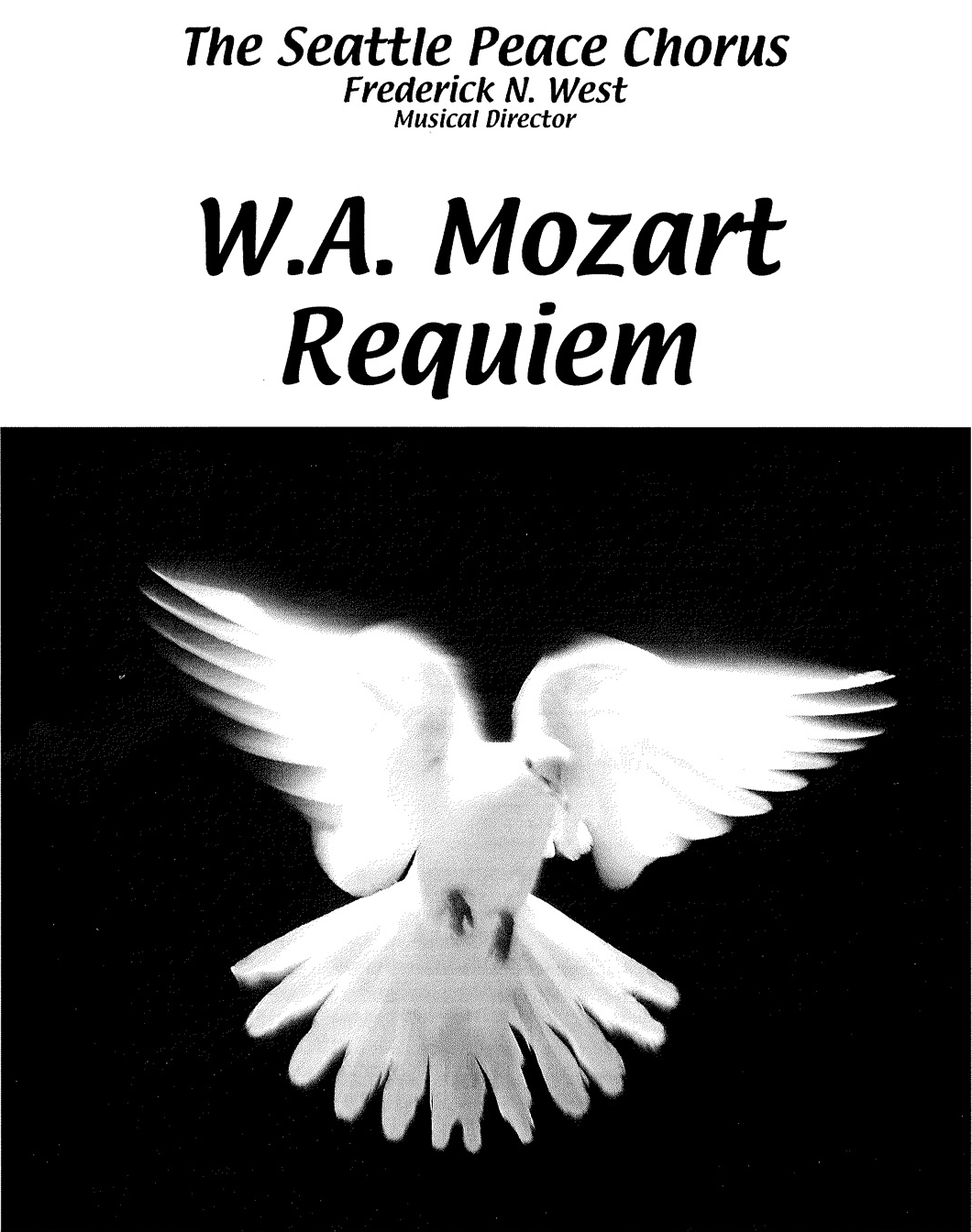 Virtual Mozart Requiem Sing-along and Play-along
Join us on Zoom at 3 pm on Memorial Day, 25 May 2020. We cannot hear each other play and sing, but we can at least perform the Requiem at the same time to honor our veterans and victims of war, victims of the pandemic, and the many who have risked their lives to care for others.
"The Workers Who Face the Greatest Coronavirus Risk," by Lazaro Gamio, New York Times, 15 March 2020
View or download a score:

Join us on Zoom at 3 pm Memorial Day: https://us02web.zoom.us/j/82405981318?pwd=NWNkVjA2NUplWW1sRkp3WE5jdXArQT09
Seattle Peace Chorus performing with Kamand, the Persian Folk Ensemble, and the Western Washington University Orchestra, Frederick West, conducting, Spring 2006, the first movement of Mozart's Requiem: Introitus

We will be sharing this YouTube video performance of the Requiem conducted by John Eliot Gardiner:

Working for Peace and Justice
During these times of contagion, when singing together can exacerbate the risk for everyone, Seattle Peace Chorus is planning to work for peace and justice in new and creative ways.
"If a choir is only about singing and performing - there will be no choir for a while. If choir is about teaching and learning, growing, connecting, community, cultural exploration and transmission, and innovating - we will find a way to have choir." — Kellie Walsh, President of Choral Canada
A Virtual Choir for Everyone
We will engineer a virtual choir experience for everyone who joins us. We send you a backing track and directions for what to wear and how to do this; you record a video of yourself performing your part, then send it to us; we assemble all these videos into an inspiring experience to share, to be proud of, and to inspire others.
One possibility for this large virtual choir will be a performance of "The Storm Is Passing Over" by Charles Albert Tindley and arranged by Kent Stevenson with singers from Kent's Shades of Praise Gospel Choir.
Challenge Yourself
Join us to be part of a virtual duet, trio, or quartet. Tell us what you would like to sing, or we will suggest a beautiful and moving work that promotes peace, freedom, and justice. We can match your talent with other singers and musicians. All participants will be auditioned and guided. If you love to sing and if you care about helping others, you may participate wherever you are, in Australia, South Africa, or America. We will produce each quartet, maintain a library of these performances, publish videos on our YouTube channel, and you may share it widely among your friends and connections.
We will also produce a DVD of the best performances.
Learn about Nonviolent Activism
Join a virtual group to study music history, nuclear disarmament, and nonviolent activism. We can share books about Gandhi, Martin Luther King, Jr., and Nelson Mandela.
One book on our short list is Unbowed: A Memoir about the life and work of Wangari Maathai, who founded the Green Belt Movement and won the Nobel Peace Prize working to save the forests of Africa and empower women.
Zoom with the Masters
Join us to learn about significant aspects of music theory and music history. Our theme is how music overcomes adversity.
These will be similar to the sessions we are hosting this Spring, so far:
Tom Bell playing and explaining the structure of Beethoven's piano sonatas
Charles Hiestand on Beethoven's Fifth Symphony
Matthew Weiss on violin and Tom Bell on piano performing Beethoven's Romance in F for violin and orchestra
Liz Douthitt Sharp on women in jazz
See Zooming with the Masters. We will schedule these sessions through the summer.
Weekly Activist Update
We will be a clearing house for meaningful ways to get involved. Get out the vote, improve gender equality, support Native Americans and Black Lives Matter, work for health care, fight for climate change, and more.
Drumming for Singers
A well-known Seattle drumming teacher and Frederick West, the artistic director of Seattle Peace Chorus, will co-teach a drumming class that will be especially helpful for singers. Four outdoor sessions this summer will follow strict guidelines for the personal safety of all participants. Dates and times will be announced soon.
Peace Festival
When we are all safe from the pandemic and people are free to travel and to gather, we would like to organize an event to showcase the best small groups that we produced during the shutdown, and have everyone sing together for a few big numbers.
Membership in Seattle Peace Chorus
Singing together, in concert halls and during marches and demonstrations, has always been a part of how Seattle Peace Chorus promotes messages of peace and justice, but membership in Seattle Peace Chorus has always meant more than singing together. Help us in these times to continue to reach out to change people's hearts and minds.
Your regular dues as a member of Seattle Peace Chorus entitle you to participate in all our activities without further fees. If you choose not to become a regular member of Seattle Peace Chorus, however, you may pay a modest fee to offset the cost of hiring technicians and musicians to bring virtual experiences to fruition.
If you have not previously joined as a member of Seattle Peace Chorus, to sign up to participate please fill out an audition request form and tell us how you'd like to participate.
Members past and present may sign up by contacting us at info@seattlepeacechorus.org.

We urge everyone to support organizations that promote peace, protect our planet, and fight for the underprivileged. See this list of organizations that we support.

For both singers and listeners, the Seattle Peace Chorus provides a unique choral experience. Our commitment to peace and social justice creates a special bond among members and with our audience.
Our repertoire, reflecting our multi-cultural, multi-national focus, ranges from spirituals and gospel to Mozart and Beethoven, from South African freedom songs to the original works of our director Fred West.
Performances often include an exciting range of instrumentalists from Cuban drummers to chamber orchestras. This rich variety is sustained by our commitment to using a collaborative process for decision making, enabling members to influence repertoire decisions through a committee that any member can join.
In addition to traveling to countries such as the former Soviet Union, Chile, Cuba, and Venezuela, and performing two major concerts a year, we support peace and community activities by singing at rallies, marches, fundraisers for disaster relief, and similar events.
If our unique approach to choral music appeals to you, consider joining us as a singer, volunteer, or financial supporter—or simply come to our concerts and be inspired.

Together Apart: a song of community action
Lyrics
Now we seek to help our neighbor,
Working together apart,
Doing our part for friend and for stranger,
Love at a distance spanned by the heart.
Seattle Peace Chorus thanks the Action Ensemble "Together Apart" Virtual Choir:
Guitarist
Sopranos

Martha Baskin
Patricia Clayton
Margarita Muñoz
Nikki Nichols
Rosalyn Schiller
Mary Wilson

Altos (including borrowed sopranos)

Dee Knapp
Emily Leslie
Zarifah Spain
Cindy Talley
Wendy Zieve

Tenors

Doug Balcom, composer and ensemble director
Jeff Carter
Sue Hurley Rector

Basses

Steve Bauck
Stephen Ernst
David Matthews
Dale Rector
Because of the developing SARS-CoV2 virus and the COVID-19 illness that it causes, we urge everyone to be especially careful to take care of yourself and those whom you love.
We Thank our Donors
Seattle Peace Chorus thanks our generous donors, true champions for peace and social justice.
$1,000 or more
Martha Cohen
Julie Eriksen
Emily Leslie
Tom & Liz Sharp
Gazala Uradnik
$750 or more
Robert Andrews
Donene Blair
$500 or more
Steve Bauck
Thomas Berry
Carol Brown
Dean Grainger
Peggy Hannon
David Matthews & Wendy Zieve
Dale & Sue Hurley Rector
$350 or more
Donna Austin
Lila Henderson
Fred West
$250 or more
Pat Clayton
Bill Cote
Stephen & Karen Ernst
Edward Greenleaf
Jeri Howe
Marvin Kvamme
Teresa Lords
Marsha Munson
Molly Ryan
Rosalyn Schiller
Sylvain Slaton
William Weis
Kristina Zawisza
$200
Tom & Rosemary Bell
Bill Buchan
Nedra Gaskill
Cecilia Matta
Alex O'Reilly
Gary Potter, Potter Construction
Marilyn & Thomas Sanford
John Sparks
$150
Helen Lauritzen, founding director of Seattle Peace Chorus
Cindy & Tad Anderson
Andrew Bauck
Greg Bishop
Miram Blau
Jeff Carter
Jennifer Carter
Fran Cavaille
Meta Chessin
Dan & Sandra Ciske
Gabrielle Douthitt
Douglas D. Hoople
Dee Knapp
Roger Moss
Rick Wyckoff
Other
Steven Albright
Sue Ann Allen & Richard Conlin
Courtney Austin
Rhonda Austin
Constance Bain
Doug Balcom
Marcia Bennison
Ann Bowden
Janette Brown
Michelle Burke
Lesslie Burwell
Sonia Chessin
Geoff Cole
Robert Crosby
Susan Davis
Elisa Del Rosario
Constance DeRooy
Theodore Dietz
Debbie Eads
Margie Esola
Dana Feld
Daniel Gilman
Mary Giordano
Philip Heller
Chris Hellner
Karyll Henry
Barbara Hersey
Barbara Hughes
Kathleen Humphrey
Sue Hunt
Pamela Iverson
Jan F. Kvamme
Whitney Keyes
Ana Kimball
Joe Knight
D'vorah Kost
Kristi Larson
Edward Lowe
Edie Loyer Nelson
Suresh Malhotra
David Morris
Susanna Myers
Patricia Navarre
Nikki Nichols
Helen Nissani
David O'Connor
Donna Pall
Terri Pollock
Janice Randall
Susan Renhard
Karen E. Richter
Jacob Rourke
Timothy Rourke
Caren Ruppert
Gwen Rousseau
Dan Russell
Judith Samuel
Pamela Silverstein
Susan Skillman
Straton Spyropoulos
Louise Stromberg
Sherry Tuinstra
Wendy Watanabe
Janet Whitlock
Timothy Williams
Mary Wilson
John Zmolek

We Thank our 2020 Business Sponsors

Thank you everyone who helps support the Seattle Peace Chorus.