Thank you to all who participated in our virtual Give for Peace fundraising event or have already scheduled your GiveBIG donation. Saturday 5 May is the last day to GiveBIG for Seattle-area nonprofits.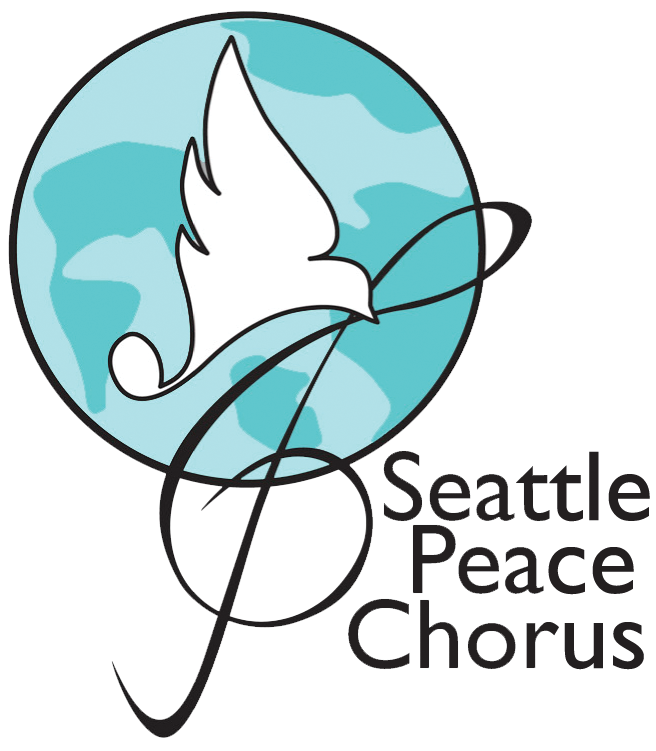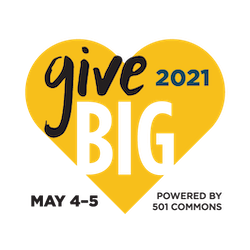 GiveBIG is coming to a close. Today is your last chance to have your donation to Seattle Peace Chorus count for GiveBIG.
Click here:
GiveBIG now!
Please help Seattle Peace Chorus continue to inspire audiences with messages of peace. Click here to GiveBIG today!
You'll also want to add our upcoming concerts to your calendar:
5 & 6 June 2021 – Bringing People Together through Song, a virtual concert to premiere on the Seattle Peace Chorus YouTube channel.
20 & 21 November 2021 – Jubilation in My Soul: a Song Gallery of Dynamic Black Lives, an original choral work by Kent Stevenson
THANK YOU FOR YOUR SUPPORT!
GiveBIG is a 501 Commons 24-hour online giving event to raise funds for local nonprofit organizations, including Seattle Peace Chorus.
Give for Peace
Give for Peace is LIVE!
Tune-in here to our short Give for Peace videos, which include guest speakers, social justice performances, and special messages from chorus members! You can view the schedule below. After Saturday, each video is viewable by 10 AM each morning, or any time after that. Thank you for your support!
Event Schedule
Saturday 10 April at 6 PM PDT
"Unity" Virtual Concert
Guest Speaker: Jovino Santos Neto
Sunday 11 April
Civil Rights
Guest Speaker: Jorge Barón
Monday 12 April
Nuclear Disarmament
Guest Speaker: Margarita Muñoz
Tuesday 13 April
Gender Equality
Guest Speaker: Cris Williamson
Wednesday 14 April
Racial Justice
Guest Speaker: Eddie Rye Jr.
Freedom Rings!
P.S. Our concert on YouTube has had over 1350 views (including 275 from the Saturday premiere, but not including views of individual numbers, and our Let America Be America Again has had 341 views by itself).
Seattle Peace Chorus presents:
Freedom Rings!
featuring:
Jason Turner, soloist, "A Change Is Gonna Come"
"Let America Be America Again" – musical setting of the poetry of Langston Hughes & other songs inviting all citizens to open their hearts and participate in our democracy.
Jimi Malary, baritone soloist, and Sondra Segundo, Haida soloist, "Let America Be America Again"
Chris Daigre, renown African-American dancer
The Courage Ensemble, with Reverend Dr. Kelle Brown, soloist, Emmy Ulmer on timpani, and guest conductor Kenya Léger
Shades of Praise Choir, directed by Kent Stevenson
Gretchen Yanover on cello
and more
Turn to our concert page for our program and links to other materials.
Peaceful
Communication
Please take a look at the February 2021 issue of our Peace & Justice newsletter.
"Peace is not the absence of conflict, but the ability to cope with it."
— Mahatma Gandhi
Working for Peace and Justice
During these times of contagion, when singing together can exacerbate the risk for everyone, Seattle Peace Chorus is planning to work for peace and justice in new and creative ways.
"If a choir is only about singing and performing - there will be no choir for a while. If choir is about teaching and learning, growing, connecting, community, cultural exploration and transmission, and innovating - we will find a way to have choir." — Kellie Walsh, President of Choral Canada

Membership in Seattle Peace Chorus
Singing together, in concert halls and during marches and demonstrations, has always been a part of how Seattle Peace Chorus promotes messages of peace and justice, but membership in Seattle Peace Chorus has always meant more than singing together. Help us in these times to continue to reach out to change people's hearts and minds.
Your regular dues as a member of Seattle Peace Chorus entitle you to participate in all our activities without further fees. If you choose not to become a regular member of Seattle Peace Chorus, however, you may pay a modest fee to offset the cost of hiring technicians and musicians to bring virtual experiences to fruition.
If you have not previously joined as a member of Seattle Peace Chorus, to sign up to participate please fill out an audition request form and tell us how you'd like to participate.
Members past and present may sign up by contacting us at info@seattlepeacechorus.org.

We urge everyone to support organizations that promote peace, protect our planet, and fight for the underprivileged. See this list of organizations that we support.

For both singers and listeners, the Seattle Peace Chorus provides a unique choral experience. Our commitment to peace and social justice creates a special bond among members and with our audience.
Our repertoire, reflecting our multi-cultural, multi-national focus, ranges from spirituals and gospel to Mozart and Beethoven, from South African freedom songs to the original works of our director Fred West.
Performances often include an exciting range of instrumentalists from Cuban drummers to chamber orchestras. This rich variety is sustained by our commitment to using a collaborative process for decision making, enabling members to influence repertoire decisions through a committee that any member can join.
In addition to traveling to countries such as the former Soviet Union, Chile, Cuba, and Venezuela, and performing two major concerts a year, we support peace and community activities by singing at rallies, marches, fundraisers for disaster relief, and similar events.
If our unique approach to choral music appeals to you, consider joining us as a singer, volunteer, or financial supporter—or simply come to our concerts and be inspired.

Because of the developing SARS-CoV2 virus and the COVID-19 illness that it causes, we urge everyone to be especially careful to take care of yourself and those whom you love.

We Thank our 2021 Business Sponsors

Thank you everyone who helps support the Seattle Peace Chorus.