Are you a singer?
The Seattle Peace Chorus, under the direction of Fred West, is holding auditions for singers to join our exciting upcoming new season!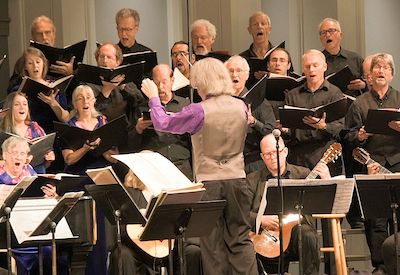 Rehearsals are on Monday nights
beginning 13 September 2021 7:00 pm—9:30 pm
Wallingford Area
Join now to rehearse for our launch of an original composition
by Gospel music great, Kent Stevenson:
Jubilation in my Soul: A Song Gallery of Dynamic Black Lives
Read more about auditions and rehearsals
Complete this form to schedule your audition
Dues are $280 for the year, which includes your sheet music
Our Spring 2022 concert,

"Peace to the Planet,"

features Fred West's environmental oratorio:

"Upon This Land,"

an epic work for choir, soloists, brass, woodwinds, and percussion.

Jubilation in My Soul:
A Song Gallery of Dynamic Black Lives
an original choral work by Kent Stevenson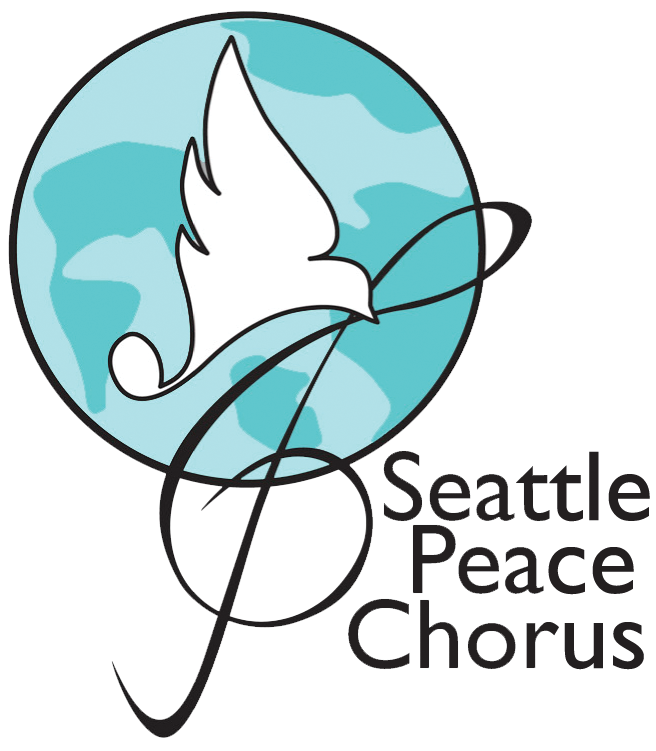 Seattle Peace Chorus fall repertoire will include this stunning gallery of extraordinary Black lives, imagining representations in visual art, sculpture, artifacts, photography, and film/video (with various narrator guides)
Kent Stevenson focuses on Black Inventors, the Greenwood District in Tulsa, and six Black individuals. There will be a short song or chant or choral rendering for each of the following six individuals; based on poetry or original text.
Bayard Rustin: Spiritual for the political strategist and unsung right hand to MLK; architect of the 1968 March on Washington.
Mary McCleod Bethune: Anthem for the early educator, rights activist, and close confidant of Eleanor Roosevelt
Muhammad Ali: A Rap/Chant titled "Float Like a Butterfly," for the world boxing legend with his familiar story of championship, determination, confidence, success, loss, humor, recovery, bravery, and power.
Shirley Chisholm: A Gospel song for activist politician, first woman of color to run for presidentt in the 1970's, when her campaign slogan was "Unbossed and Unbought.' She paved the way for numerous women of all backgrounds into congressional and other high ranking government positions, clear down to Kamala Harris.
Josephine Baker: A cabaret or French resistance song for this exotic entertainer, dancer, singer who, fleeing racism in the US in the 1930s, moved to Paris, where she became a cabaret sensation. No other woman of color attained her height of fame. Then, she became a spy! During WWII and in retirement, she adopted children from all over the world to her country house in the South of France.
Billy Strayhorn: Swing/Jazz for this composer, arranger, and pianist, the unsung genius behind Duke Ellington's musical career.
Litany of Black Inventors: A boogie/theatrical, uptempo piece, with some call and response with Josephine Howell.
Tulsa: In this piece we focus primarily on the notable success progress of the African-American Greenwood District of Tulsa and Black Wall Street; celebrating the ingenuity and resolve of this community: there is an understated symbolic music & movement ending representing the debacle. Songs: "They Did it the American Way" in an upbeat Sousa style, and "Bigotry Blues," a waltz.
Join the Chorus! Watch for this Work!
Thank you for supporting Seattle Peace Chorus.

Peace to the Planet:
featuring "Upon This Land"
a cantata for the Earth by Frederick N. West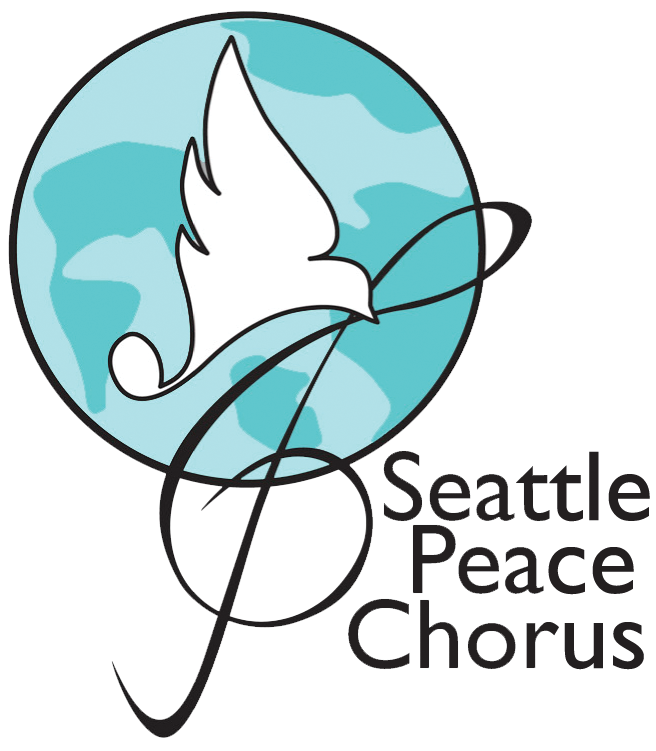 Seattle Peace Chorus spring repertoire will include the environmental oratorio, "Upon This Land," scored for choir, soloists, brass quintet, woodwinds, celli, and percussion. We will also sing other works celebrating the beauty of the earth and calling for stewardship of the land.
Our work this year will be to integrate the human struggle with that of our very home planet, in celebration, joy, reverence, and a call to come forth and be together in this most worthy and all important movement. As we care for the people of the Earth, we look to the very planet's survival.
Climate change is right now at our door, with recent wildfire smoke and alarming heat waves challenging us all to simply breathe clean air and not be sweltering in our typically cool Northwest lands.
We will be looking for ways to align ourselves with local and international environmental groups to learn what real steps can be taken now to ensure that our grandchildren inherit a habitable world.
The late jazz great, Dave Brubeck, had this to say about the work:
I recently heard a composition by Fred West called "Upon This Land." With the current focus on ecology and our environment, this cantata has a very important message. But beyond the message is great choral contemporary writing. "Upon This Land" is ideal for performances at any of the world-wide environmental conferences now so prevalent in our attempts to solve global ecology problems. . . . Mr West's composition should have a much wider audience.
Join the Chorus! Watch for this Work!
Thank you for supporting Seattle Peace Chorus.

Seattle Peace Chorus Pandemic Protocol
Last updated: 18 September 2021
Goal
Our goal is to resume in-person rehearsals and performances while maintaining safety for all participants from COVID-19, including the Delta variant. Ideally, we will be able to learn, in person, Kent Stevenson's "Jubilation in my Soul" and perform it live on 5 & 6 February 2022.
For singers who are not able to or do not feel comfortable attending rehearsals in person, but who would be able to perform in person in February, we will record and stream our rehearsals on Zoom and YouTube.
If conditions worsen, or our protocol does not let everyone participate safely, we have a contingency plan to perform this work in February 2022.
Protocol
Our protocol has these parts:
Vaccinations
Monitoring and living safely
Masking and distancing
Room management
Remote participation
Vaccinations
All participants must be fully vaccinated. You must provide proof of vaccination for Tom Sharp. You may email a photo of your vaccination certificate to tom@seattlepeacechorus.org or bring yours to our retreat our first rehearsal on Monday 13 September, 7 pm. Tom will photograph your cards, print these, and keep them in a file. From these records, Tom will keep a roster of in-person participants.
Monitoring and living safely
Before entering our rehearsal place, Tom will use a "no-touch forehead" thermometer to take your temperature, ask how you feel, and ask whether you have recently traveled or put yourself in any risky situation. If you have been in a risky situation, or have been exposed to anyone with a COVID-19 infection, we expect you to sit out for 10 days, attending performances only virtually. Alternatively, you may sit out for 4 days and get a negative polymerase chain reaction COVID test.
We do not want anyone who is likely to have been exposed to COVID-19 to attend in person, but will provide a Zoom or YouTube alternative to participate and learn our repertoire at home.
If you develop symptoms, that is, you don't feel well, even if you don't think it's COVID-19, or are not planning to attend a rehearsal for any reason, email info@seattlepeacechorus.org. You will not be able to arrive late without emailing, because we will lock the door at 7:15 pm. Email to let us know when to expect you.
You will not be allowed to enter our rehearsals without vaccinations, or if you have symptoms, or have had a possible exposure to COVID-19. Everyone who enters will be tracked on a roster, so that we will have a record of all our own contacts if any of us gets sick.
Instead of answering question at the door, within the 6 hours before you arrive, you may submit your responses to our COVID-19 attestation questionnaire online on the members-only page.
Masking and distancing
Inside our rehearsal rooms, everyone will wear masks and maintain a minimum distance from each other of 6 feet while singing, pending recommendations.
If you have forgotten to bring a mask, we will give you an KN95. Otherwise, we recommend the Resonance Singer's Mask from mymusicfolders.com, or a similar mask from another source, such as the VocalEase mask at vocaleasemask.com.
Room management
We may open all windows in our rehearsal space; even in cold weather, at least one window will be open. We might put fans at the windows. Fresh air is more important than air purifiers in dispersing any potential viral aerosols. We will try to keep it as warm as we can (as few windows open), using the carbon-dioxide monitor to give us a measure of air flow. Therefore, dress warmly.
We will deploy portable HEPA filters in the room. Bring your own to add to ours if you like.
We will divide singers into smaller groups to maintain distance, and will rotate out of rooms to let the air clear. We may sing outdoors at times.
Remote participation
Tom will broadcast or record all live rehearsals and make these available privately on Zoom, our website, or our YouTube channel. If you need to miss a rehearsal because of a possible exposure to COVID-19, you will be required to follow or catch up virtually.
Contingency plan
If any of us gets COVID and others are exposed during an in-person activity, we will skip rehearsal for a week and ask you to quarantine yourself. If you develop symptoms, let Donna know and get yourself tested, then report your test result.
If our plans go awry, or if we are not able to maintain a quorum of singers, we plan to learn "Jubilation in my Soul" virtually, produce a small part of it to release in November, and to perform it in person in February 2022.
We are not making this up
The WHO, CDC, Washington State, Seattle-King County, and our rehearsal and performance spaces set and periodically modify policies for coping with the pandemic. We will follow the best and most conservative advice to keep everyone as safe as possible. But a great deal of responsibility lies with you. Please be careful and respectful.

---
Peaceful
Communication
Please take a look at the February 2021 issue of our Peace & Justice newsletter.
"Peace is not the absence of conflict, but the ability to cope with it."
— Mahatma Gandhi
Working for Peace and Justice
During these times of contagion, when singing together can exacerbate the risk for everyone, Seattle Peace Chorus is planning to work for peace and justice in new and creative ways.
"If a choir is only about singing and performing - there will be no choir for a while. If choir is about teaching and learning, growing, connecting, community, cultural exploration and transmission, and innovating - we will find a way to have choir." — Kellie Walsh, President of Choral Canada

Membership in Seattle Peace Chorus
Singing together, in concert halls and during marches and demonstrations, has always been a part of how Seattle Peace Chorus promotes messages of peace and justice, but membership in Seattle Peace Chorus has always meant more than singing together. Help us in these times to continue to reach out to change people's hearts and minds.
Your regular dues as a member of Seattle Peace Chorus entitle you to participate in all our activities without further fees. If you choose not to become a regular member of Seattle Peace Chorus, however, you may pay a modest fee to offset the cost of hiring technicians and musicians to bring virtual experiences to fruition.
If you have not previously joined as a member of Seattle Peace Chorus, to sign up to participate please fill out an audition request form and tell us how you'd like to participate.
Members past and present may sign up by contacting us at info@seattlepeacechorus.org.

We urge everyone to support organizations that promote peace, protect our planet, and fight for the underprivileged. See this list of organizations that we support.

For both singers and listeners, the Seattle Peace Chorus provides a unique choral experience. Our commitment to peace and social justice creates a special bond among members and with our audience.
Our repertoire, reflecting our multi-cultural, multi-national focus, ranges from spirituals and gospel to Mozart and Beethoven, from South African freedom songs to the original works of our director Fred West.
Performances often include an exciting range of instrumentalists from Cuban drummers to chamber orchestras. This rich variety is sustained by our commitment to using a collaborative process for decision making, enabling members to influence repertoire decisions through a committee that any member can join.
In addition to traveling to countries such as the former Soviet Union, Chile, Cuba, and Venezuela, and performing two major concerts a year, we support peace and community activities by singing at rallies, marches, fundraisers for disaster relief, and similar events.
If our unique approach to choral music appeals to you, consider joining us as a singer, volunteer, or financial supporter—or simply come to our concerts and be inspired.

Because of the developing SARS-CoV2 virus and the COVID-19 illness that it causes, we urge everyone to be especially careful to take care of yourself and those whom you love.

We Thank our 2021 Business Sponsors

Thank you everyone who helps support the Seattle Peace Chorus.