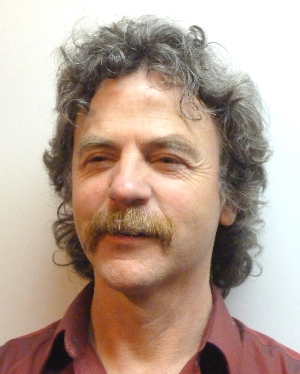 Frederick N. West has directed Seattle Peace Chorus since 2001. Under his leadership, the chorus has embarked on an adventurous mix of multicultural and classical programming, including the Vaughan-Williams masterpiece, Dona Nobis Pacem; Pablo Neruda's Canto General composed by Mikis Theodorakis; Missa Luba, a Latin mass set to Congolese rhythms; Rachmaninoff's All Night Vigil, and Beethoven's Ode to Joy.
Frederick West studied composition with Edwin LaBounty, choral conducting with Robert Scandrett, and instrumental conducting with William Cole at Western Washington University. He has participated in conducting workshops with Rodney Eichenberger, Doreen Rao, Weston Noble, the distinguished Robert Shaw, and many others.
Fred's choral compositions include the Balkan-inspired Christmas Cantata for strings, hand bells, timpani, and tappan (1987); an environmental oratorio, Upon This Land, for winds, celli, four soloists, and percussion (1990); Mass for the Children for choir, bass and soprano soloists, marimbas, cello, flute, and oboe (1998); a setting of Langston Hughes poem titled Let America Be America Again for brass quintet, choir, baritone soloists, and percussion (2008); Diarmaid and Grainne—a Celtic fable for choir and Irish instruments (2013); and hundreds of shorter works. Perhaps most unusual of his musical adventures has been an annual OrcaSing on San Juan Island, which was filmed and broadcast by 60 Minutes and seen by millions of viewers in 2000, and continues to be a rallying of environmental stewardship focused on preserving the Salish Sea.
In 2018, the Seattle Peace Chorus commissioned Fred to compose a work for our Spring concert to honor the legacy of Native Americans in our time. People of the Drum, scored for choir, strings, and woodwind quintet, featured Sondra Segundo-Cunningham, an accomplished Haida singer, Johnny Moses, the renown Tulalip story teller, and Cheoketen, the highly regarded Saanich flutist and drummer. We opened with a Duwamish blessing by elder Edie Loyer Nelson.
Fred has toured SPC to Venezuela, Chile, Cuba, and our Southwest border states—participating in international choral festivals, building bridges based on a common love for choral singing. Fred has been honored to serve on the board of Greater Seattle Choral Consortium, and serves as the Director of Music for the City Cantabile Choir.