Seattle Peace Chorus thanks everyone who contributed, as singers, volunteers, and supporters, to our successful "Feast for Peace 2019" fundraising dinner on Saturday 30 March 2019. Our singers, volunteers, and supporters are the only reasons that we can continue to sing for a just and peaceful world.
5th Annual Feast for Peace, Saturday 30 March 2019
Great food, desserts, wine, entertainment, and a warm welcome!
Join members of the Seattle Peace Chorus, Music Director Frederick West, Master of Ceremonies Jennifer Sill, and Clave Gringa for a memorable evening of tantalizing food, lively music, friendship, fun, and inspiration!
Enjoy wine or soft drinks and delicious appetizers — all included in the $65 (early bird) or $75 (regular) admission.
Host a table, or join singers and friends at their table.
Compete with your table for a delicious dessert in the Dessert Dash.
Hear the Chorus in a cameo performance and see their inspiring video.
Enjoy lively music and dance with Clave Gringa: from the cha-cha-cha to the depth of AfroCuban rhythms, this band presents a broad spectrum of Cuban music.

Most important:

Support the Chorus by "raising your paddle" to provide critical financial support, ensuring that our work for peace and social justice through music is able to continue in the coming year!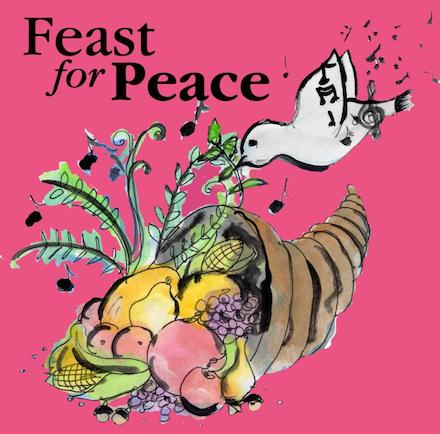 Mount Baker Community Club
2811 Mount Baker Drive South, Seattle, WA 98144
5:30 pm Saturday 30 March 2019
Business Sponsorships
You may sponsor the Seattle Peace Chorus as a business. Business sponsorship levels are:
Level 1: Peace Maker $2,500
Level 2: Change Maker $1,500
Level 3: Advocate $1000
Level 4: Supporter $500
Our business sponsorship levels have increasingly valuable benefits. See details on business sponsorship here, and contact Dee Knapp at dee.knapp@comcast.net.
This event should be enjoyed by anyone who is 21 or older.
Celebrating 35 years of waging peace through music.
All proceeds raised at the event are critical to support our ongoing work.
This will be the Chorus' major fundraising event this year.
At any time, please feel free to make your donations through PayPal.
Donating to the Seattle Peace chorus not only helps bring the messages of peace and understanding to our communities and world, it's also easy to do! We are a 501C-3 nonprofit organization, so donations are tax-deductible.
You may donate either through Patreon, PayPal, or by mailing a note and your check to Seattle Peace Chorus, P. O. Box 30152, Seattle, WA 98113-0152.
Become a patron of Seattle Peace Chorus by pledging a monthly donation on Patreon.com:
Click on the button below to donate on PayPal. Thank you for helping to support the Seattle Peace Chorus.
We Thank our Business Sponsors