Come to our next concert! Ticket sales help support Seattle Peace Chorus.
In addition to tickets and grants, the chorus depends on donations from individuals and businesses.
Come to our annual fundraising dinner, Feast for Peace.
Be one of our great sponsors!
4th Annual Feast for Peace
Great food, desserts, wine, entertainment, and a warm welcome!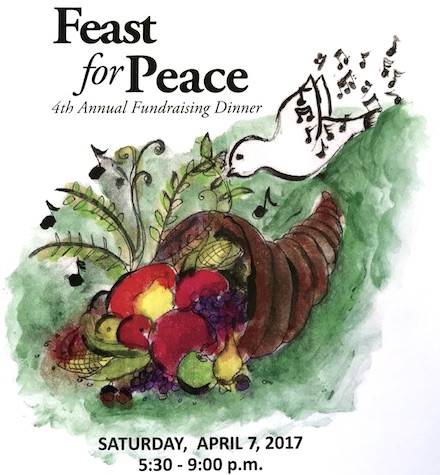 Mount Baker Community Club
2811 Mount Baker Drive South, Seattle, WA 98144
Tickets are only $65. And you may sponsor the Seattle Peace Chorus as an individual or as a business.
Individual sponsor levels are $75 - Peace Supporter, $100 - Peace Activist, $150 - Peace Advocate, and $200 or more - Peace Angel. To become an individual sponsor, contact Emily Leslie at eleslie@comcast.net.
Our business sponsorship levels have increasingly valuable benefits. See details on business sponsorship here, and contact Jeff Carter at carterlundberg2@gmail.com.
This event should be enjoyed by anyone who is 21 or older.
This year, we built on previous years' successes:
Celebrating 35 years of waging peace through music.
All proceeds raised at the event are critical to support our ongoing work.
This will be the Chorus' major fundraising event this year.
We are seeking event sponsorships from both businesses and individuals
At any time, please feel free to make your donations through PayPal.
Donating to the Seattle Peace chorus not only helps bring the messages of peace and understanding to our communities and world, it's also easy to do! We are a 501C-3 nonprofit organization, so donations are tax-deductible.
Click on the button below to donate on our secure site. Thank you for helping to support the Seattle Peace Chorus.
We Thank our Business Sponsors