3rd Annual Fundraising Dinner - Feast for Peace
An evening of feasting, complimentary wine, and a dessert dash, highlighted by the Latin music and songs of the acclaimed Latin band Alma y Azúcar, plus a video of the Chorus's recent trip to Cuba.
Cocktail Attire - Fun and Festive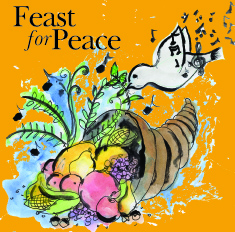 Reserve your place at the table:



(http://brownpapertickets.com/ref/231313/event/2856999)
call 800.838.3006,
or get tickets from a chorus member.
Tickets $55*
* Each ticket has a fair market value of $55. Additional donations are tax-deductible. Event goal is $10,000.
Seattle Peace Chorus is a 501(c)(3) nonprofit.
Donations are deductible to the full extent of the law.
Save the date
Saturday, 25 March 2017, 6 - 9 pm
Mount Baker Community Club, 2811 Mt. Rainier Dr. S, Seattle, WA 98144
Spread the word
Say you are interested in our event
on Facebook.
Interested in being a sponsor?
For business sponsorships, contact betsyalexander61@gmail.com.
For individual sponsorships, contact eleslie@comcast.net.
For both singers and listeners, the Seattle Peace Chorus provides a unique choral experience. Our commitment to peace and social justice creates a special bond among members and with our audience.
Our repertoire, reflecting our multi-cultural, multi-national focus, ranges from spirituals and gospel to Mozart and Beethoven, from South African freedom songs to the original works of our director Fred West.
Performances often include an exciting range of instrumentalists from Cuban drummers to chamber orchestras. This rich variety is sustained by our commitment to using a collaborative process for decision making, enabling members to influence repertoire decisions through a committee that any member can join.
In addition to traveling to countries such as the former Soviet Union, Chile, Cuba, and Venezuela, and performing two major concerts a year, we support peace and community activities by singing at rallies, marches, fundraisers for disaster relief, and similar events.
If our unique approach to choral music appeals to you, consider joining us as a singer, volunteer, or financial supporter—or simply come to our concerts and be inspired.
Help the Seattle Peace Chorus
continue its mission
of supporting peace and justice
through music.
Donate today.
Dear Supporter of music, peace, and justice,
As Board President, I am writing you today asking for your support of the Seattle Peace Chorus. Our dual mission of striving for musical excellence and of supporting peace and justice makes us unique among Northwest choirs.
Our chorus has participated in many noteworthy events this past year -- events you surely support and encourage. Let me tell you about some of the remarkable things that have happened during our 2015-2016 performance season, thanks to your generous support.
The Peace Chorus invited the public to three major performances:
A choral celebration of the gifts to America from Africa, including a singing of the Congolese mass, Missa Luba.
An affirmation of our children featuring Cantata for the Children, composed by Frederick West, and Schubert's Mass in G.
Our recent concert celebrating the Afro-Cuban tradition featuring an Afro-Cuban composition, Orin Odara, composed and arranged by Fred Hoadley.
Plus, we participated in the following events:
City of Bellevue's Martin Luther King celebration.
350 Rally for Climate Change.
Black Lives Matter event for social justice.
Cuban Five photography exhibit urging a lifting of the Cuban embargo.
South Shores K-8 schools promotion of ethnic diversity.
Rock Access Rally and March supporting the Dakota Tribes protest against an oil pipeline running through their ancestral lands.
I am also eager to share with you our plans for 2017:
A performance in the Fall of 2017 celebrating the contribution of the Jewish people, including a singing of the Verdi Requiem, which was sung by Jewish people while incarcerated in a World War II concentration camp.
A performance in the Spring of 2017 honoring Native Americans featuring the world premiere of a commissioned Native American choral work composed by our director Frederick West.
Continued presence and performance at Northwest events supporting peace and justice.
We can not do any of this without your support. I hope you agree that the Seattle Peace Chorus makes music and people-to-people connections that are very relevant to the issues of our time. The chorus is 100% volunteer run with a contracted part-time music director. Our income is provided from concert ticket sales, chorus member dues, fundraising events, and grants. However, we rely very much on individual donations from people like you to help close our budget gap.
Please consider making a special year-end tax-deductible gift to help the Chorus continue singing and speaking for peace. You can leverage your donation, if you work for an employer with a matching gift program. Please take the time to put a check in the mail today or make an online donation from our donation page.
If you have further questions, please contact us at info@seattlepeacechorus.org. Checks should be made out to Seattle Peace Chorus and mailed to P.O. Box 30152, Seattle, WA 98113-0152.
Thank you for your support and have a wonderful, peaceful, holiday season!
Your friend in peace,
Joseph Knight, MD
Board President
Seattle Peace Chorus
We appreciate your support!