4th Annual Feast for Peace
Hold this date for our annual fundraising dinner:
Saturday 7 April 2018 – 5:30 pm – 9:00 pm.
Great food, desserts, wine, entertainment, and a warm welcome!
This event should be enjoyed by anyone who is 21 or older.
Tickets only $55 until 9 March, then $65.
And you can become a sponsor of Seattle Peace Chorus.


See details on our fundraiser page.
Our next concert: People of the Drum
This season the Seattle Peace Chorus continues our Diaspora series, honoring groups of people who have kept their rich traditions alive throughout persecution, enslavement, and hardships. We examine Freedom of the Press through music in the Fall, and honor Native American legacies in the Spring.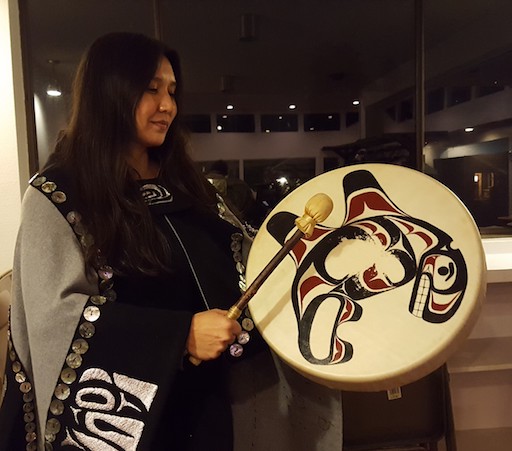 Sondra Simone Segundo, Haida artist, author, and songwriter
will be a soloist with Seattle Peace Chorus
for "People of the Drum," our concerts on 2 & 3 June 2018.
Photo by Nikki Nichols
For both singers and listeners, the Seattle Peace Chorus provides a unique choral experience. Our commitment to peace and social justice creates a special bond among members and with our audience.
Our repertoire, reflecting our multi-cultural, multi-national focus, ranges from spirituals and gospel to Mozart and Beethoven, from South African freedom songs to the original works of our director Fred West.
Performances often include an exciting range of instrumentalists from Cuban drummers to chamber orchestras. This rich variety is sustained by our commitment to using a collaborative process for decision making, enabling members to influence repertoire decisions through a committee that any member can join.
In addition to traveling to countries such as the former Soviet Union, Chile, Cuba, and Venezuela, and performing two major concerts a year, we support peace and community activities by singing at rallies, marches, fundraisers for disaster relief, and similar events.
If our unique approach to choral music appeals to you, consider joining us as a singer, volunteer, or financial supporter—or simply come to our concerts and be inspired.
We Thank our GiveBIG Donors
Seattle Peace Chorus thanks our 19 generous donors, true champions for peace and social justice, including 10 supporters who gave $100 or more and will receive two free tickets to our Spring concerts. Altogether these champions gave Seattle Peace Chorus $2350.
Our previous concert
Thank you everyone who helped produce our fundraising dinner, Feast for Peace, and everyone who gave to support the Seattle Peace Chorus.