Are you a singer?
Sing for a just and peaceful world with the Seattle Peace Chorus.
(Rehearsals on Monday evenings starting 13 January.)
Interested?
Submit an "Audition Request" form on our website.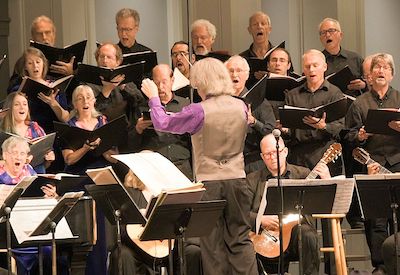 You will be uplifted by our concerts this coming June, honoring the 250th anniversary of Beethoven's birth with the story of his life, featuring movements from Missa Solemnis and Mass in C.
Why We Sang "People of the Drum"
Our fall concerts reprised "People of the Drum," composed by our artistic director, Frederick N. West.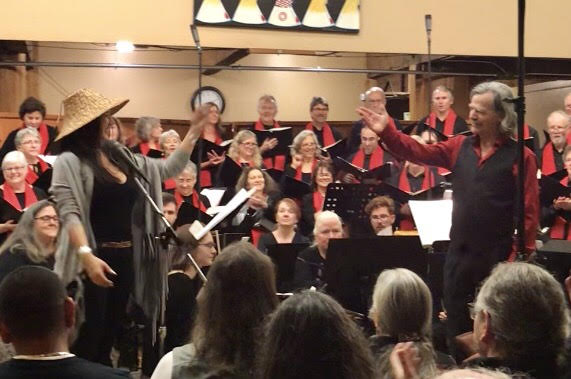 See "Notes from the Composer."
The Seattle Peace Chorus commissioned this work in 2017 because we could not find choral works that honored the legacies of Native Americans. Our country and region have been blessed with the lives of so many people from so many cultures over thousands of years.
For me, in part, it is personal. I am Tom Sharp, president of the board of directors of Seattle Peace Chorus. My ethnic origin is Aleut; my family belongs to the Seldovia Village Tribe. Seldovia, where my mother was raised, was a trading and meeting place for tribes from the three major cultures of Alaska—Eskimo, Athabascan, and Aleut. The logo of the Seldovia Native Association represents the three cultures together in a kayak. We are all in the same kayak, people of all cultures.


Consider the first movements of this choral work. "The Journey" represents the earliest migrations of people into our continent. "The Wind" is about endurance of spirit, while "White Shells of Peace" is a tribute to the great peacemakers Hiawatha and Huron Sachem Dekanawida. There is much more. The work is informative, moving, and culturally uplifting.
Please set aside any fear about cultural appropriation; it isn't appropriation to honor and promote the values of native cultures. Our performances in 2018 featured collaborations with native performers: Paul "Che oke ten" Wagner (Saanich drummer), Johnny Moses (Tulalip storyteller), and Sondra Segundo (Haida singer). And Edie Loyer Nelson (Duwamish elder) gave our opening blessing.
Sondra Segundo gave us this testimony:
"People of the Drum" is a fusion of new music and indigenous knowledge. This production gives honor to the indigenous people of the Americas who, through it all, continue to honor our Creator and to care for Mother Earth. It helps bring awareness to social issues caused by colonization that we as a nation continue to heal from. My native people are resilient and strong. We are still here for a reason. Seattle Peace Chorus is walking alongside us in support as we reclaim our art and culture and relearn our many indigenous languages. What a beautiful group of people with hearts of gold! This production is a gift of music to all and a reminder that we are all in this together."
—Sondra Segundo, singer and keeper of the Haida language
This fall we will perform at Daybreak Star Indian Cultural Center, and at the Duwamish Longhouse and Cultural Center.
Thank you everyone who supported Seattle Peace Chorus throughout our previous season!
Canto General Concerts
Happy post-concert time, Seattle Peace Chorus fans. We are all glowing after two highly successful concerts. If you have comments, or photos or videos from the concerts please share with us on our Facebook page! You can support our ongoing work of spreading peace and awareness through music by following us, spreading the word, donating and continuing to come to our concerts. Stay tuned for news about about our 2019-2020 season.
For both singers and listeners, the Seattle Peace Chorus provides a unique choral experience. Our commitment to peace and social justice creates a special bond among members and with our audience.
Our repertoire, reflecting our multi-cultural, multi-national focus, ranges from spirituals and gospel to Mozart and Beethoven, from South African freedom songs to the original works of our director Fred West.
Performances often include an exciting range of instrumentalists from Cuban drummers to chamber orchestras. This rich variety is sustained by our commitment to using a collaborative process for decision making, enabling members to influence repertoire decisions through a committee that any member can join.
In addition to traveling to countries such as the former Soviet Union, Chile, Cuba, and Venezuela, and performing two major concerts a year, we support peace and community activities by singing at rallies, marches, fundraisers for disaster relief, and similar events.
If our unique approach to choral music appeals to you, consider joining us as a singer, volunteer, or financial supporter—or simply come to our concerts and be inspired.
We Thank our Business Sponsors
Thank you everyone who helps support the Seattle Peace Chorus.