Staff for issue 1.1
Executive editor: Donna Austin Webmaster and copy editor: Tom Sharp
Special thanks to:
Martha Cohen, Julie Eriksen, Lila Henderson, Emily Leslie, Fred West, Wendy Zieve, Kris Zawisza
and to our contributing writers
Contributing Writers Zelda S. Foxall, "Why I Vote"
Zelda Foxall held a 38-year career focused on civil rights for the U.S. Department of Education, Office for Civil Rights and the Washington State Human Rights Commission where she worked to address discrimination with respect to education, housing and employment issues. She currently belongs to her neighborhood Indivisible group, Beacon Hill Huddle, which focuses on racial and social justice issues. She also volunteers for RESULTS, a global and domestic anti-poverty organization; AARP and the Seattle-King County Aging and Disabilities Services Council, where she advocates for Medicaid, economic security, housing, hunger, fraud, health care and safety net programs that support older adults.
Niuvis Ferro-González, "Why I Vote"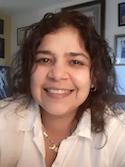 Niuvis Ferro-González is a Caseworker Cultural Mediator working in the Interpreter Services Department at Harborview Medical Center/UW Medicine in Seattle, Washington.
Niuvis has worked at Harborview for eight years, initially as Medical Interpreter and for the last four months in the role of Caseworker Cultural Mediator. In her new role, Niuvis serves as a Cultural broker/Community health worker/ Mediator between Spanish speaking patients and health providers in order to ensure culturally sensitive care. She assists patients and their families in navigating the complexity of our healthcare system and advocates for and facilitates their consistent communication with healthcare teams.
Prior to her work at Harborview, Niuvis worked for seven years as a Spanish Medical Interpreter and Interpreter Coordinator for NeighborCare Health in Seattle, WA.
Previously, for a period of five years, Niuvis worked as a teacher in Cuba, her native country. She arrived in Seattle 2005 and became a US citizen in 2014.
Niuvis is credentialed with Medical Interpreter Certification from Washington State Department of Social and Health Services DSHS; she is a National Certified Medical Interpreter CCHI and also has a Masters Degree in Education from Instituto Superior Pedagógico (Teachers University), Santiago de Cuba.
Niuvis is always on the lookout for continuing education opportunities. She is a clear communicator and enjoys working with her community.
Julie Eriksen, "Suffrage"
Julie Eriksen is a soprano with degrees in psychology and music, who was born in Seattle and currently lives in Bellevue, along with my husband Dwayne, two cats named Cagney and Lacey and a baby junco named Fluffles, who was recently born in a bird nest located in a hanging fuschia basket in our atrium. BLM!
Kris Zawisza, "Voter Suppression"
Kris Zawisza sings alto with Seattle Peace Chorus and is a new member of SPC's Board of Directors. A life-long musician, she plays piano, ukelele, and accordion and is a member of the folk ensemble Just Us Singers. She lives with puppy Hani and cat Moses and is able to keep them well fed and healthy by working as a performance and quality assurance analyst for Washington State's vocational rehabilitation program.
Dale Rector, "Putting One Foot in Front of the Other and Leading with Love"
Dale Rector is a Vietnam veteran, a foreign-language teacher in Seattle, a baritone singing with the Seattle Peace Chorus, and a co-chair of the Seattle Peace Chorus Action Ensemble.
Dee Knapp, "What is Nonviolent Communication?"
Dee Knapp is president of Accord and Collaboration Services. She does extensive work on conflict resolution. She sings second Soprano in Seattle Peace Chorus and acts as a liaison/advisor to the chorus on non-violent communication.